With Disney+ and Apple TV+ coming to us in just a few weeks, it's seriously time to consider cutting your cable company out of your life. There's plenty of content to watch between services like Netflix, Hulu, and Amazon Prime, and when you add a TV antenna into the mix like Aukey's 50-mile Indoor Digital TV Antenna, you can pick up live TV channels in your area for free, oftentimes in superb HD quality. This antenna regularly sells for $11 at Amazon, but today you can pick one up for only $7.03 when you enter promo code MD6QEP2U during checkout. That's easily the lowest we've ever seen it reach and a savings of $4, but the real savings come once you call your cable company up and tell them the good news.
Binge For Free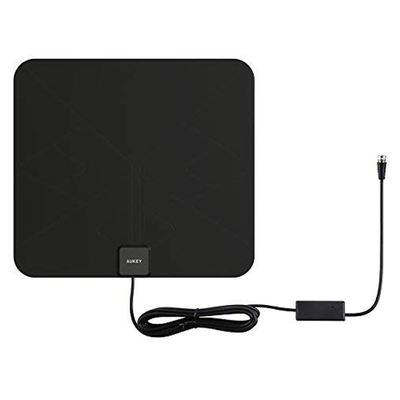 Aukey 50-mile Indoor Digital TV Antenna
Get rid of your costly cable bill finally. With a few streaming services and a digital TV antenna like this, you won't be missing out. It features a 50-mile range and falls to one of its lowest prices ever when you enter the following coupon code.
$7.03 $10.99 $4 off
This amplified digital TV antenna is designed to be used indoors and is capable of picking up digital HD broadcast television channels from up to 50 miles away. Rather than just buying it and finding out what it can pick up once it's set up, you can use this DTV reception map to see which channels are available in your area.
Its super thin design means you can place this antenna nearly anywhere; you could even use it in an RV or while camping to catch up on the local news, sports, and TV shows without ever worrying about a monthly cable bill. Aukey also includes a two-year warranty with its purchase.
Next, you'll want to make sure you have a decent streaming media device at home, and this guide to best Android TV boxes in 2019 can help you find several that not only can access Netflix and Hulu but the Google Play store as well.
We may earn a commission for purchases using our links. Learn more.