With how inexpensive dash cams are these days, there's really no excuse to not have one in your vehicle. For instance, Dragon Touch's 1080p Dash Camera is normally just $40 at Amazon, and using code C83QHR6R during checkout can save you nearly 50% off that cost. For only $21.99, you'll be able to start capturing some great footage of any road trips you take, as well as footage of any accidents that might occur in the meantime.
Thrifter Take The Wheel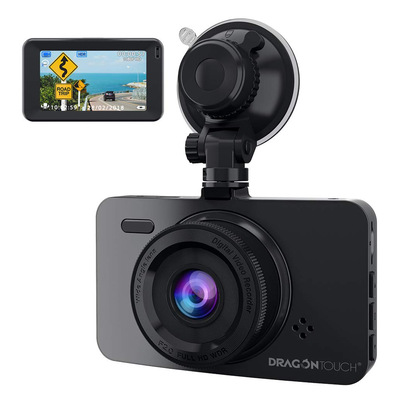 Dragon Touch 1080p Dash Camera
Whether you like to record road trips for your YouTube channel or you like to have proof you're not at fault during an accident, this dash cam could come in handy.
$21.99 $39.99 $18 off
The Dragon Touch 1080p Dash Camera is equipped with a 170-degree wide-angle lens that can capture multiple lanes of traffic in a single shot. It records in clear 1080p HD, so you can make out signs and license plates as they pass by in the video. With its built-in 3-inch LCD screen, you can re-watch footage before you even make it home. There's also a built-in G-Sensor that automatically records and locks down the video when it detects a collision — even when the vehicle is parked.
You'll want to have a microSD card handy to save footage on, as this dash camera doesn't come with one. Luckily, you can pick up the recommended 32GB microSD card for less than $8 right now.
We may earn a commission for purchases using our links. Learn more.