How often have you wanted to power up something in your vehicle but didn't have the right outlet to make it happen? With the BESTEK 200W Power Inverter, you won't have that problem again. It's packed with two AC outlets, a cigarette lighter socket, and four USB ports that are all powered via your car's cigarette lighter socket. It's normally pretty affordable too, with an average cost of around $23, but today you can snag one for only $16.09 at Amazon when you clip the coupon on its product page and then enter promo code 20BSRMZ5 during checkout. That's lower than it's ever reached without a code before.
HERE'S YOUR GREEN LIGHT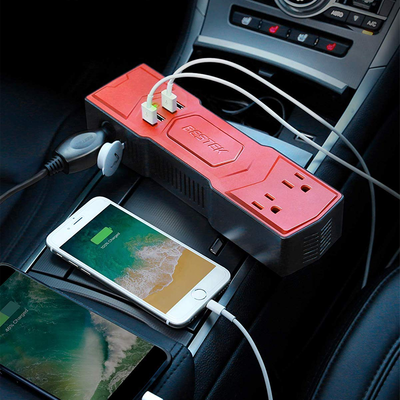 BESTEK 200W Power Inverter and USB charger
Thanks to its two AC outlets, four USB ports, and cigarette lighter socket, you'll be able to charge just about any device in your vehicle — even several at once. Clip the coupon on its product page and enter the code below to snag this low price.
$16.09 $22.99 $7 off
This portable power inverter was designed to keep all of your devices powered up while you're on-the-go, and with its 500W peak output power, it does a pretty great job at it. It has a three-foot power cable that should allow you to put it whenever you'd like in your vehicle, which its two AC outlets, four USB ports, and cigarette lighter socket can power up to seven devices at once. Meanwhile, its built-in 30 amp fuse and protections against over-voltage, overloads, short-circuiting, overheating, and more will continue to make sure you're safe while it's in use.
We may earn a commission for purchases using our links. Learn more.