Who has time for slow chargers that take hours to power up your phone or computer? These two new USB-C chargers with Power Delivery by Aukey were designed to charge your devices much faster, and today you can save 30% on the purchase of either when you enter the appropriate promo code during checkout.
Juiced Up ⚡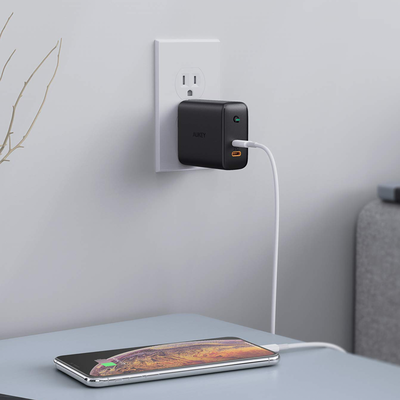 Aukey USB-C Chargers
These USB-C chargers feature Power Delivery 3.0, foldable prongs, and a new low price when using one of the coupon codes below.
From $24
This two-port USB-C Charger with Dynamic Detect is the most efficient of the two, featuring two USB-C ports which can output 18W Power Delivery each when they're being used simultaneously, or 30W when only one is in use. That can keep not just your phone charged but also your tablet, laptop, and more. Using code 67WW9N5B during checkout can bring its price down to $24.49, saving you $10 off the purchase.
For something with even more power, Aukey's USB-C Charger with GaN Power Tech only features a single USB-C port, but thanks to Power Delivery 3.0 and its output of 60W, this charger is suitable for powering up everything from the MacBook Pro to the Nintendo Switch. Despite its price of $39.99 on Amazon, right now you can pick one up for only $27.99 by entering promo code NG5WQRWH during checkout.
We may earn a commission for purchases using our links. Learn more.