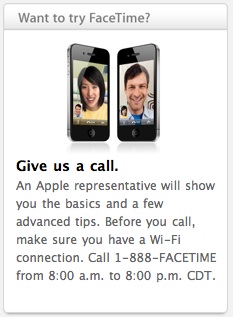 Many new adopters of the new iPhone 4 would like to put one of the key features into use. Apple's FaceTime requires another iPhone 4 and it can be a confusing idea to wrap around your head. It may be difficult to put to use because users don't know many other people with the device.
Apple has started a testing hotline at 1-888-FACETIME and callers will be asked a few questions about their device and Wi-Fi availability. After, callers will be transferred into a FaceTime session with an Apple representative to test things out and to ask any other questions.
Users can access this service between 8AM and 8PM CDT.