Buying smart bulbs doesn't have to break the bank; there are lots of inexpensive options on Amazon and buying a combo pack can usually save you even more, like this 2-pack of TECKIN smart bulbs that regularly sells around $25. Today you can enter promo code WDMUPNUL during checkout and bring its price down to $19.99, which means you'd be scoring each one for only $10 apiece. Even without the code, this pack is an affordable way to dive into smart home tech or expand your smart home lighting.
You Lit Me Up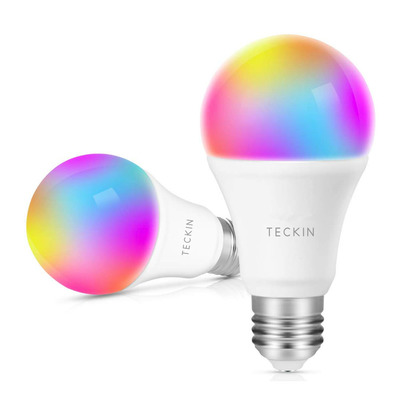 Teckin E27 Multicolor Smart Light Bulb 2-Pack
At just a dollar more than the best price we've seen per bulb, this is a great way to add to your smart home and save some cash while you do it.
$19.99 $24.99 $5 off
These dimmable smart bulbs connect with an app on your phone which allows you to control them no matter where you are. You'll be able to schedule them to turn on and off at certain times too, such as when you get home from work each day or at your regular bedtime. They can be voice-controlled as well with Amazon Alexa and Google Assistant, and they're compatible with IFTTT as well.
With over 16 million color options, you'll never get tired of how simple controlling these bulbs is. Since they're LED bulbs, they even help to conserve energy, making today's investment one that will continue to save you money over time.
We may earn a commission for purchases using our links. Learn more.