It feels like not too long ago Pokémon: Detective Pikachu was announced to wide-reaching fan fervor, and now you can finally own it on Blu-ray and DVD at its lowest price yet of $14.99 via Amazon. This Blu-ray and DVD set also comes with a digital code that can be redeemed online for a Digital HD copy to add to your digital movie collection. Today's deal saves you $3 off its most recent price at Amazon, though it was going for $25 on release. You can pick up the 4K version for just $20. This film is also on sale at Best Buy.
Pika Pi!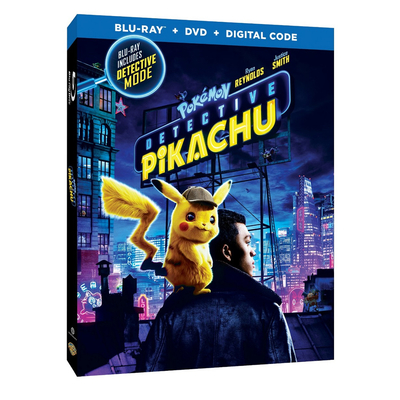 Pokémon: Detective Pikachu (Blu-ray + DVD + Digital HD)
You'll have to rewatch Detective Pikachu a few times to catch all the Pokémon sightings in the film, but thankfully this Blu-ray + DVD + Digital HD set just scored a discount on Amazon that's super effective.
$7.99 $17.96 $10 off
Detective Pikachu is a visual effects feast that's sure to delight Pokémon fans of any age. Featuring appearances of favorites like Mr. Mime, Psyduck, Bulbasaur, Squirtle, Charizard, and of course Pikachu, the film is so full of creatures and callbacks to the original Pokémon games that you'll have to watch it more than a couple of times to catch them all. And as we all know, you've gotta catch 'em all.
This Blu-ray set also includes a bunch of special features including deleted scenes, featurettes on Creating the World of Detective Pikachu, Mr. Mime's Audio Commentary, and even a Detective Mode.
While you're at Amazon, consider pre-ordering Pokémon Sword or Pokémon Shield; Prime members receive a $10 bonus credit once the game is shipped.
We may earn a commission for purchases using our links. Learn more.