Amazon is offering the Instant Pot Max 6-Quart Multi-Use Pressure Cooker for $149.99. Its best price in history was $149.95, and that only hit once, back in December of 2018. Today's deal is a far cry from the normal $200 price tag, and there's no telling when it'll drop back down again once the offer expires. Shipping is free.
Chef It Up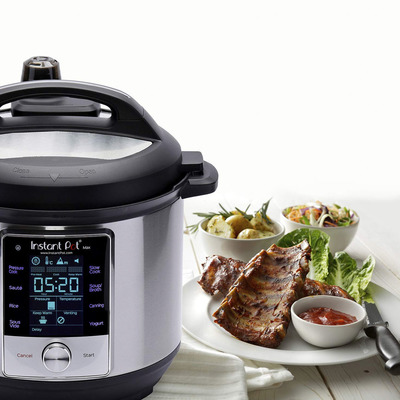 Instant Pot Max 6-Quart Multi-Use Pressure Cooker
Instant Pots have come way down in price, and today it's (almost) more affordable than ever to add this model to your counter.
$149.99 $199.95 $50 off
This is one of the newest Instant Pots on the market. It's the first one with a pressure cooker has sustained 15psi, meaning you can both pressure cook and can. Just ensure that if you try home canning, you do it safely and research before you start. The Max is the first instant pot capable of completing this task. It can do all the other things Instant Pots can as well, like sautéing, searing, slow cooking, and yogurt making.
This model features a large bright LCD screen, touch-sensitive keys, and a new remote venting system for steam release. It also features NutriBoost technology, another first, which creates a boiling motion during pressure cooking to ensure nutrition and flavor are added to things like soups and broths. The pot has a luxe appearance, too, with a brush stainless steel boxy. Parts are dishwasher safe and backed by a full year warranty.
While this doesn't have a ton of customer reviews yet, the testimonials left so far are mostly positive, resulting in a rating of 4.1 out of 5 stars overall. Consider putting your savings toward a glass lid for easy leftover storage or perhaps a cookbook to help you get started.
We may earn a commission for purchases using our links. Learn more.