The Acer Predator XB271HU 27-inch 1440p 144Hz IPS G-Sync monitor is down to $499.99 on Amazon. This is a new low price and a fantastic deal considering the monitor was selling for as much as $600 in March. It has been selling closer to $550 since then, but it has never dropped below that.
Pretty in Pixel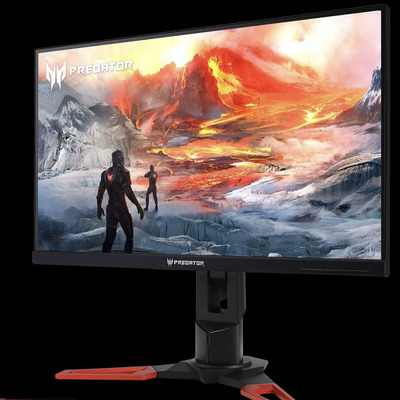 Acer Predator XB271HU 27-inch 1440p 144Hz IPS G-Sync monitor
The specs on this monitor are impressive. With an IPS panel, which allows for the best media viewing, the screen has 1440p resolutions, 144 Hz refresh rates, a 4 ms response time, VESA mounting, and Nvidia's G-Sync. I'd buy it.
$499.99 $550.00 $50 off
Acer actually makes several very similar models under the Predator name. You could save an extra $50 by getting this version for $449.99. That's the lowest price for that version of the monitor, too, and it's $50 off its street price. There are a couple of specific differences between these two screens. The latter one going for $450 is a TN panel, which is the main reason for the price difference. IPS panels are better in viewing angles and color accuracy. The other difference is in the VESA mounting on the back, which only matters if you're going to mount it to an arm or on the wall.
The monitor has a 2560 x 1440 pixel resolution, a refresh rate of 144 Hz, and a response time of 4 ms. It has adaptive sync and supports Nvidia's G-Sync technology, which helps you reduce screen tearing in games. The refresh rate can even be overclocked to 165 Hz using DisplayPort, which is the same connection you'll want to use for G-Sync anyway. Connectivity options include the previously mentioned DisplayPort and HDMI. The screen has Flicker-less technology to reduce eye strain, two 2W speakers, and an adjustable stand. The VESA compatibility supports 100 x 100 mm.
We may earn a commission for purchases using our links. Learn more.