It might not be time to put out the holiday decorations just yet, but it is time to start buying gifts on sale and stuffing them away in the depths of your closet. LEGO's advent calendars are perfect to pick up early too, as they each come with 24 mini gifts that can be opened day-by-day during the month of December for 24 days of surprises! There are new LEGO advent calendars every year, and this year's sets are already available at a discount on Amazon.
LEGO's 2019 Star Wars Advent Calendar is now down to $32.82, while the 2019 Harry Potter Advent Calendar is down to $32.99. That's nearly 20% off the regular cost of each one, and there's no doubt that they'll be priced closer to $40 come November. In recent years, similar advent calendars have even gone out of stock at Amazon once the holiday season is close to arriving, so it's smart to not wait until then.
We Wish You A Merry Brickmas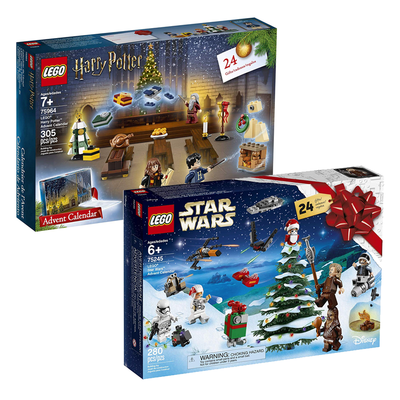 LEGO 2019 Advent Calendars: Star Wars, Harry Potter
The holiday season is just a few short months away, meaning now's the time to pick up these LEGO Advent Calendars on sale before they inevitably rise in price. These sets come with 24 mini gifts that can be opened one day at a time, or all at once!
$32.82 $39.99 $7 off
The 2019 LEGO Star Wars Advent Calendar comes with 280 pieces that come together to build 24 Star Wars minifigures and mini models, from characters like Luke Skywalker and Chewbacca to intergalactic spaceships like Poe's X-Wing. Kids can unveil one mini-model each day or take them all out at once to start playing with their new toys as a set. A foldout playmat is included as well, and the best part is that these mini-models integrate perfectly into other LEGO Star Wars sets.
Meanwhile, the 2019 LEGO Harry Potter Advent Calendar includes 24 mini-builds as well, for a total of 305 pieces. Potter fanatics will build minifigures of Ron, Harry, and Hermione in festive clothing, along with Great Hall tables full with a Christmas feast, presents, a tiny Hogwarts Express, and more. They'd fit in with all the other LEGO Harry Potter sets you may own too.
We may earn a commission for purchases using our links. Learn more.