Leaving your house without charging your phone doesn't have to be a problem. AUKEY has two USB Car Chargers on sale at Amazon today to make sure you can power your devices quickly while on the road so you never arrive with a dead battery. Prices start as low as $9, though you'll need to enter the appropriate promo code during checkout to score the best price possible.
This USB-C model is the most affordable of the two, dropping to just $9.12 using promo code RC38ZS2K. It's equipped with a USB-C and a USB-A port, with the USB-C port offering a faster charge at 15W, and a two-year warranty is included with its purchase too. Today's deal saves you $6 off its average cost there.
On the other hand, this dual USB-A version has two USB-A ports, including one featuring Quick Charge 3.0 compatibility. Using code MMYUACCX during checkout will drop its price to $10.84, saving you $4 in the process. This model comes with a two-year warranty as well.
Take Charge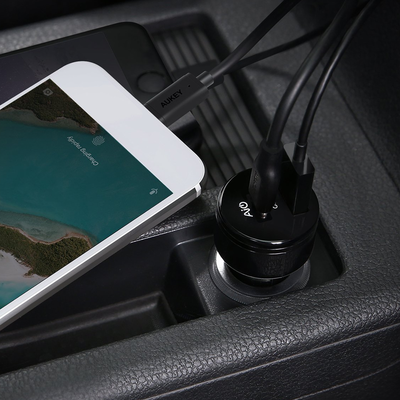 AUKEY USB Car Chargers
Two models of AUKEY's USB Car Chargers are on sale today at Amazon, including one with two USB-A ports and another featuring a USB-C and USB-A port. You'll just need to enter the appropriate coupon code during checkout.
Starting at $9
Before you checkout, make sure you have a charging cable handy to keep along for the drive. Another must-have for your vehicle is this portable car jump starter that just went on sale for $65.
We may earn a commission for purchases using our links. Learn more.