by June 22, 2010June 22, 2010 9:47 am PDT
|
Along with all the new changes with iOS 4's release on Monday, one of the less known but important changes included a screen informing users of the changes in the iTunes Store and conditions.
The folks at iLounge investigated into the new conditions and uncovered that the new terms refer to Apple's new iAd service which delivers a new, higher-quality mobile advertising experience.  Apple's ability to serve ads in a higher degree of relevance to customers because of the company's past purchase and downloads history attracts many advertisers but users will now have the option to opt out of collection of such information.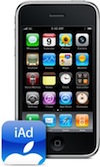 "Apple and its partners use cookies and other technologies in mobile advertising services to control the number of times you see a given ad, deliver ads that relate to your interests, and measure the effectiveness of ad campaigns," the text says. "If you do not want to receive ads with this level of relevance on your mobile device, you can opt out by accessing the following link on your device: http://oo.apple.com. If you opt out, you will continue to receive the same number of mobile ads, but they may be less relevant because they will not be based on your interests. You may still see ads related to the content on a web page or in an application or based on other non-personal information. This opt-out applies only to Apple advertising services and does not affect interest-based advertising from other advertising networks."
Users must visit the opt-out URL on their device to exclude themselves from the data collection.  As well, users must be running iOS 4 in order to register for the opt-out.
Application developers have already started rolling out iAd-enabled applications for the service that will go live on July 1st, 2010.
---