by June 13, 2010June 13, 2010 4:55 am PDT
|
News of iPhone 4 in the UK have recently surfaced, with one of the more notable reports detailing the removal of the unlimited data plan.  Instead of the unlimited data and texts, they will be tiering call minutes and data buckets across all of its plans.
Monthly tariffs will start at 100 minutes and 500MB of data for £25 (2 year contract) and £30 (1 1/2 year contract).  Unlimited calling and 1GB of data will run you between £60 – £65.  The carrier will run the unlimited calling plan up until October 1st, at which then they will switched to the tiered pricing.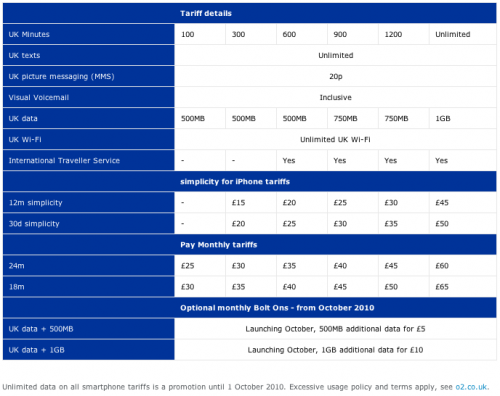 O2 also announced its early upgrade policy for iPhone which describes that customers currently on contract with them can buy out their remaining term at the rate of £20 per month at which they can then buy the iPhone at regular upgrade price.  The offer comes available instead of the requirement of paying their contracts off in full.  The result is a significant discount off a contract-free iPhone 4.
T-Mobile UK and Three UK will offer the new iPhone as well, joining O2, Orange, Vodafone and Tesco.
---